CONCEPT & DESIGN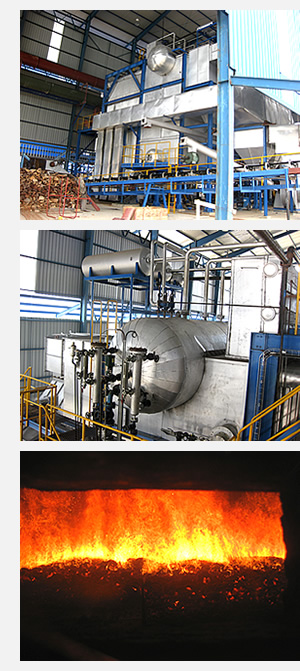 The concept of our boiler products is to provide reliable solutions for boiler related problems that is affecting the industry particularly in the palm oil & wood industry. Our boilers are specially adapted for the palm oil and wood industry but it can also be used for other industry having solid wastes.
Our design is a proven solution for the common problems that are affecting these industries such as spewing of black smoke, excessive pressure drop, wet steam, manual de-ashing and longer down time. These systems are designed to cope up easily with sudden steam demand, and less sensitive to the quality of water being supplied.
Our well designed combustion room is provided with various fuel feeding and burning systems and is coupled with the appropriate combustion controls resulting in a good and smooth combustion which suits almost every client's specific fuel requirements.
We offer custom made solutions for the complete energy system. As an engineering specialist we offer solutions for environmental friendly boilers for the combustion of wood waste, palm waste, bagasse, coal, as well as for oil & gas fired boilers and electric boilers.
With a core emphasis on superior engineering and strict manufacturing quality standards, We continually strive and meet the ever increasing expectations of today's customers for reliable heat, power or steam generation. Our wide product range serves to meet the heat, steam or power needs of our customers regardless of their industry and location.
Our products are the result of years of continuous and rigorous detailed engineering and dedication to providing quality in our manufacture and in our service to our customers.